Ozeki VoIP SDK - Product Guide
Analog adapter with FXS and FXO port
An analog gateway as well as Cisco SPA3002 can be used to connect analog phones and fax machines to VoIP services through IP-based data networks. This article presents all you need to know about this VoIP phone adapter.
Cisco SPA3102 VoIP phone adapter
The SPA3102 features the ability to connect standard telephones and fax machines to IP-based data networks with the additional benefit of an integrated connection for legacy telephone network hop-on, hop-off applications. SPA3102 users will be able to leverage their broadband phone service more than ever by automatically routing local calls from mobile phones and land lines over to VoIP service providers and vice versa. If power is lost to the unit or Internet service is down, calls can be redirected to a traditional carrier via the FXO interface. Figure 1 shows how to connect devices to Cisco SPA3102.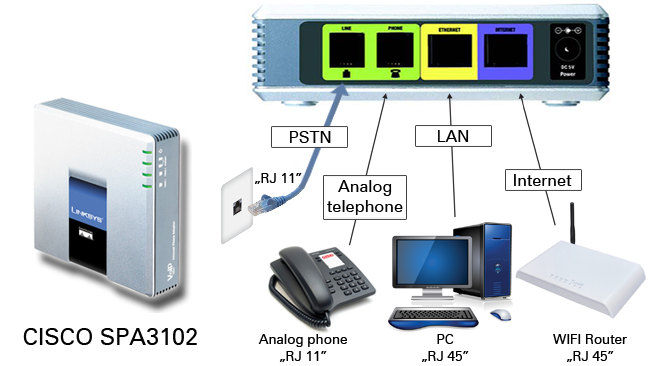 Figure 1 - Connecting devices to Cisco SPA3102
A user calling from a mobile phone or land line will be able to reduce and even eliminate international and long distance telephone charges by first calling their SPA3102 via a local telephone number. The advanced authentication and call routing intelligence programmed into the SPA-3102 will route the call via the Internet to the far end destination. In addition, when using the SPA3102 at the far end, VoIP calls placed to that location can be either answered or further processed and routed on as a local call to any legacy land line or mobile phone.
The SPA3102 supports one RJ-11 POTS (Plain Old Telephone Service) FXS port to connect an existing analog phone or fax machine. The SPA3102 also supports one PSTN FXO port to connect to a Telco or PBX circuit. The SPA3102 includes 2 100BaseT RJ-45 Ethernet interfaces to connect to a home or office LAN, as well as an Ethernet connection to a broadband modem or router. The SPA3102 FXS and FXO lines can be independently configured via software controlled by the service provider or the end user.
Installed by the end user and remotely provisioned, configured and maintained by the service provider, each SPA3102 converts voice traffic into data packets for transmission over an IP network. Compact in design, the SPA3102 can be used in consumer and business VoIP service offerings including a full-featured IP Centrex environment. The SPA-3102 uses international standards for voice and data networking for reliable voice and fax operation.
Related Pages
Ozeki Cookie Policy
Ozeki Informatics Ltd uses cookies to provide you the best experience on this website. The further use of the website will be considered as an agreement to the use of cookies. For more information read this website.
Cookies are enabled You are browsing the optimized version of this website. For more information read this website.